MARMOT DAY 2017—TUESDAY, JULY 25 AT MCCURDY PARK IN CORUNNA, MICHIGAN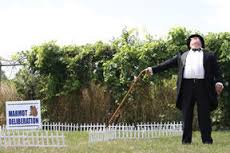 July of 2016 saw Mr. Marmot surprising everyone as he dropped into the Marmot Day Deliberation from a drone! He then proceeded to get into his car and scoot around his hole, threatening to end summer for everybody. Yet he was ultimately merciful. Our hearts were on edge before he peeled rubber and drove away, guaranteeing another six-weeks of summer.
What's most remarkable about last year's celebration, is that Mr. Marmot, AKA "ĆĖ Marmót" (he is a 68-year-old marmot from France) did not get injured whilst dropping in via a drone and racing around like a wild woodchuck in his souped up car!
We're outgrowing the Covenant Eyes World Headquarters facility in Owosso, Michigan, which is why we are celebrating in Corunna this year. This is a good problem to have. We have officially grown to 169 employees. Special visitors and family members of employees combined makes for a large group, pushing us upwards of 300 people in attendance.
If you are new to all this marmot stuff, you might be asking, "What's Marmot Day all about?" It's a half-day for Covenant Eyes employees, family members, and community leaders to share a meal, relax, share marmot jokes, and take part in some recreational activities. Mr. Marmot, a CE Executive, will deliberate over how long summer will last: if he drives his car into his hole and parks it, that's it, summer is over . . . if he drives away and doesn't come back, we get another six weeks of summer. Marmot Day is also a time we set aside to celebrate each other, our accomplishments and our friendships.
The 15th annual Marmot Day celebration takes place on Tuesday, July 25th at McCurdy Park, located at the corners of W. Mack and Norton streets (and all streets in between), in Corunna MI, 48817. We will meet at the park's "Community Center" at 11:00 a.m. The event runs from 11:00 a.m. to 2:00 p.m. The agenda is as follows:
Catered lunch & refreshments in the Community Center Building (for employees, their families, and invited guests only): 11:00 a.m.
Marmot Deliberation: 12:30 p.m.
Wood Chucking Contest: 1:00 p.m.
Activities at the park include a disc golf course, inline skating/hockey rink, Corunna Historical Village, and a playscape for children.